Why Choose Our Secondary School Science Tuition Programme
TLS Tutorials offers primary and secondary-level science tuition in Singapore.  We also provide lower secondary Science tuition and O level Science tuition to prepare students for their O level examinations.
Individualised Attention
At TLS Tutorials, we adopt an individualised learning approach to learning. This approach is effective as students learn differently and at different paces. Our Secondary Science tuition classes are kept small to allow maximum attention.
We typically assign one secondary Science tutor to a class of up to four to ensure that each student receives ample guidance and attention. Our study materials are also specially tailored and customised to help each and every student with their respective areas of needs.
Experienced Tutors
With our O level Physics and Chemistry tuition, we prioritise providing our students with customized materials and proper guidance. We equip our tutors with the finest support and resources so they are able to give their best to their students.
Our Science tutors, who are highly experienced in their respective fields, are specially selected and hand-picked for their passion in helping students achieve excellence. Our tutors may be diverse individuals, but they have one common goal — to help students achieve excellence and reach their fullest potential.
Lower Secondary Science Tuition Classes
Learning Science extends beyond simply attaining knowledge. We believe it is important that students are taught skills that enable them to think critically and solve problems. Our lower secondary Science tuition in Singapore caters to the different learning styles and needs of every student. As such, our tutors will adapt their teaching style to meet each student learning style and needs.
Through our sec 1 and 2 Science tuition programme, our students develop critical thinking skills enabling them to solve problems independently.
Our lower secondary level Science tutors will engage their cognitive skills by asking probing questions about theories and concepts to help them develop their problem- solving and application skills that are key for sec 1 and sec 2 science.
Upper Secondary Science Tuition
Our O level Science tuition classes in Singapore include upper secondary Science subjects of Chemistry and Physics. These branches of Science require different cognitive skills. Thus, our upper secondary Science tuition classes will provide different emphases in helping students develop the respective skills for these subjects.
Students taking upper secondary Chemistry would require to have a solid understanding of basic Chemistry. Chemistry is a broad subject which poses a wide spectrum of concepts and problems, which means that students may encounter specific and unique problems. Thus, our O level Chemistry tuition classes are designed to help students tackle these issues and challenges.
On the other hand, Physics may require more practice as it involves lots of
calculations and formulae. In our O level Physics tuition classes, our tutors guide students on how to solve problems creatively. By exposing them to a wide variety of Physics questions, our tutors reinforce the same fundamental knowledge in different situations. Through constant practice and guidance in these Physics tuition classes,our students develop skills and build confidence to perform well in their examinations.
Programme Outlines
We want our students to be independent and creative learners. Whether you opt for upper or lower secondary Science tuition with us, our learning materials are designed to encourage inquisitive thinking in students and help them to apply the fundamental principles of science effectively and solve problems confidently.
What Is The Standard Duration For a Tuition Session?
Typically, each lesson is about 2 hours long. However, the duration may be extended to help increase the students' attention span. Each lesson usually includes a 10-minute break. The break allows students to recharge and consolidate.
What Are The Class Schedules For Secondary Science Tuition Like?
A standard class schedule will be issued to the parents of each student at the start of every month. The lesson slots are given based on the availability indicated by the student.
In the event that the student is unable to attend a particular lesson, the parent of the student will need to notify the tutor-in-charge at least one day in advance. The lesson will then be rescheduled. Our class schedules are flexible, and we will try our best to accommodate students' urgent or last-minute requests.
What Are The Tuition Fees Per Month?
Tuition fees will vary depending on whether you are looking for upper or lower secondary Science tuition and how many sessions per month you have opted for. Please feel free to get in touch with us to learn more about your child's updated tuition fees.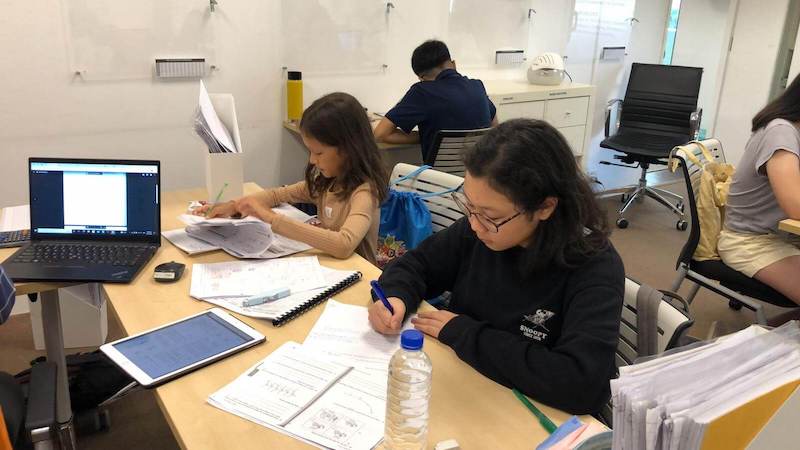 Contact Us
Kickstart your learning journey with us during the holidays prior to the new year. Have a refresher on the topics you have covered in the old year and get a head-start with a brief understanding of the new topics to come. TLS Tutorials is committed to providing the best learning environment and ensuring the success of our students.
If you are interested in enrolling your child into our primary school and secondary school Science tuition in Singapore, please email us at [email protected]. You can also learn more about our class schedules and fees by contacting us at 68360061 or 97947374. We will be happy to assist you with your queries.
Frequently Asked Questions
How much does Lower Secondary Science Tuition In Singapore cost?
The cost of Lower Secondary Science Tuition in Singapore typically ranges from $200 to $500 a month, depending on the tuition centre you choose to enrol in. Another factor that may impact tuition rates is the number of sessions you opt for and the duration of each session. To learn more about the exact fees, do not hesitate to contact us today.
Is Secondary Science Tuition needed from Sec 1?
Sec 1 students will be introduced to 3 subjects – Biology, Chemistry and Physics. The first years of Secondary School are imperative for students to build a solid foundation in these subjects. This is essential to ensure that students are able to comprehend the concepts taught in Upper Secondary. Secondary Science Tuition provides students with careful individual attention and immediate feedback to allow them to achieve academic excellence.